NFTs Collection
«The Beginning of Prismagraphy».
What It Includes.
ABOUT.

The Collection reveals the beginning of 19TONES experiments in photography using Prismagraphy technique (read below), physical prismatic glass, between 2015 and 2020.


Includes 12 selected prismatic portraits
Edition 1 of 1 for each digital art NFT
The first collector receives a hand-signed print for each artwork purchased, 1 of 1 edition for the given size & material 40 ╳ 60cm, Hahnemühle Fine Art Baryta.

Links

*Subscribe to our newsletter to be kept informed of new & upcoming NFTs.
---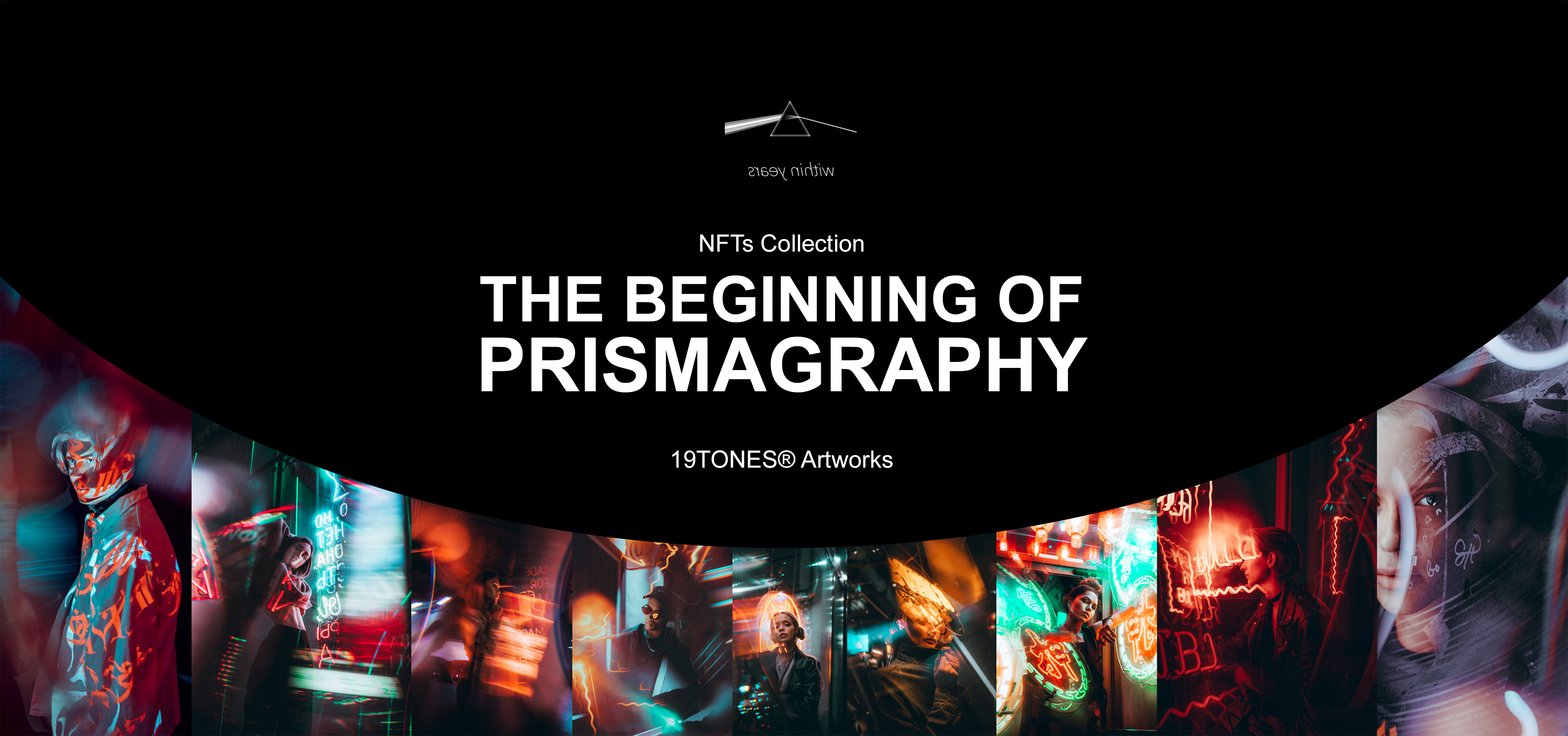 THE TERM.


The term was created by 19TONES for prismatic portraits as it is a large part of his art and photography. The technique is based on the refraction of light, the Newton's theory of light when a beam of white light passing through two prisms, which were held at such an angle that it split into a spectrum when passing through the first prism and was recomposed, back into white light, by the second prism. Thus, the author tries to escape from two-dimensional to three-dimensional space using physical prisms with completely analog approach that makes each photo so unique. It means that the author can't undo his actions after a photograph was taken. There are no Photoshop or 3D manipulations. Shot live with no CGI.

Prismagraphy is completely inspired by neon & futuristic aesthetics, it transgresses "the boundaries between the imaginary and real", toying with audience perception. This's duality as well.
---
NO CGI.


It's like an interactive experience of a real-world environment. It's as if they are enhanced by photoshop-generated visual information, but it's not the case. You literally use different prismatic & reflective materials to get a complex image. Those materials, refracting the light, are your paint and a brush. You paint before you do post-production. I've been doing this kind of work for the last five years. I have had very enriching interaction with audience through "prismagraphy". I was involved in both commercial and creative projects, which include entire series as well as individual frames.
---